Business Relationships
Business Relationships: Valuable Or Not Worth The Time?
In all business, it's the relationships you build and nurture that can make the difference in the long term success of your business.
When it comes to the Aftermarket Parts industry this may be more of a mandatory need than other business models.
Why would building relationships with manufacturers and distributors/dealers make such an impact on your business?
Fact: there are over 5400 aftermarket parts manufacturers.  Most of these brands offer tiered pricing to their dealers and distributors.  This pricing structure is tied to product sales.
So, why does that impact your business?
Competition is fierce online; your customers are experts in seeking the best value for their dollar.  When you build a relationship with the brands you offer on your website, you have an inside contact that you can tap for information and help to promote their product line.  
This relationship tree is just as important for dealers and the brands they carry as it is for brands and the dealers that promote your product line.  
The more of their line you sell, the better your pricing, the better your pricing the better you can compete with others that are selling the same line.
Additionally, people like people that like them.  Calling a contact that you know and have had a chance to build a relationship with is always more productive than calling out of the blue and explaining that you sell 1 or 2 of their parts per year.
Never forget that these relationships have a full circle of influence that could bring you business directly or in directly.
Example of this concept: You promote brand A and have built a relationship with "Joe".  "Joe" has friends and family that are interested in the many of the same things and turn to "Joe" for advice on where to purchase items that Joe's brand does not sell.  As a long lasting business relationship, you are on the top of Joe's mind when his circle of influence comes to him for advice.
This is the Social Media world.  People turn to those they know and trust to get the thumbs up on a product or service before they part with their hard earned money.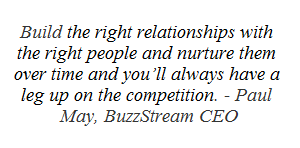 How can I keep up with thousands of relationships and still run my business?
You can't.  There is just not enough time in the day.  You can however, become very strong with a handful of brands.  Know their line, promote their line, stay on top of pricing and promotions and become the authority for those brands.  Once you've established this foot hold you can expand your reach.
How strong are your business relationships?  Do you have an inside contact that knows your name with the brands you promote on your site?
It may be time to re think your strategy and take control of your dominance in the Aftermarket Parts industry.
Just food for thought.